O.k. I always post about my cards, but I've tried a new craft, and I love the results so much I just had to share. This summer I attended a day-long class to learn how to use my
Theresa Collins Stampmaker
(thanks to my hubby for getting it for me for our anniversary, followed by the class 3 days later!). There were a number of things on display that had been made with the resulting stamps. Including jewelry. Metal jewelry.
Are you like me, scratching your head at that one? Stamping into metal? Of course I couldn't just look at it and wonder, I had to KNOW! So I asked (I'm good at that, even when it comes to getting directions, like to the room where the class was being held. Three times!). The pieces were made with metal clay.
Huh? I know. I'd never heard of it either. Turns out there is this really cool clay (a couple of different brands,
PMC
and
Art Clay
) that you can work with like clay, then fire with a torch to end up with silver pieces. Almost like magic! Well, I looked at it briefly, then put it in the back of my mind for months. Then a couple of weeks ago I somehow managed to stumble on this great starter kit at
Fire Mountain Gems
. Then I stumbled on a link to someone who would get it for me at the lowest price offered by Fire Mountain--
Jet Beads
. I was very pleased with the service and the price! I seemed to have done quite a bit of stumbling that day. Good thing I was seated while doing it!
I had had this idea since I saw the jewelry at the stamp making class and couldn't wait to try it. I had my BF, Lisa, stamp a foot of each of her two dogs. One of the dogs only has three toes on one of his paws, so I made sure she got that one. I did the same with my daughter's cat. (Trivia time! Did you know that a cat's paw print and a dog's paw print differ in that one shows toes and the other doesn't? A cat can retract its claws, so you only see the pad and toes. A dog can't retract its claws, so you see those, too. Impress your friends and family with this next time you see prints in the mud or snow!)
Where was I? Oh yes. So, after stamping, I scanned the prints into my computer and used a photo program to clean them up. Actually, the dog prints were so fuzzy from all that fur that I had to white-out around them before I could even scan them or I would've spent a whole day just working on the images! Anyway, after cleaning them up, I turned them into negatives to use in the Stampmaker. Oh, I made them really tiny, too, since I wanted them to fit on something about the size of a dime. Here is what they looked like in the different stages: (quick! Which set is from a cat?!)
Once I had these turned into stamps, it was time to work on the jewelry. I didn't know if Lisa or my daughter would prefer charms or pendants, so I made what I thought would work either way. I worked the clay and cut out little circles. Then I stamped it with the paw print stamps. On my daughter's I was able to add some texture to the back as well. After it dried I fired it with the torch (it was so cool!!!). The clay shrinks about 8-10%, so I started out with pieces a little bigger than a penny and ended up with finished pieces a little bigger than a dime. I wanted to darken the silver a little since my skills aren't yet good enough to make nice, smooth, bright silver. Found out that liver of sulfur is usually used to do this, and of course I didn't happen to have any on hand! Go figure--I have every other craft supply known to woman. No place carried it locally, either, and being the wonderfully patient person I am (not!), I didn't want to wait for an order to come in. Looking online I saw that it might be possible to darken the metal with--drum roll please--hard boiled eggs! So I hard boiled the last egg I had in the house (who can shop for groceries when there is jewelry to be made?! Actually, I had just finished making Christmas cookies with my younger daughter and Lisa's daughter, so I had a good reason other than crafting obsession for being out of eggs!). I stuck the charms in the egg for about an hour or so. Once they had darkened, I polished them up a bit.Then I jazzed each piece up with some extra beads and even smaller charms I had lying around. Lisa loves green and Heather, my daughter, loves purple, so I used those colors. Here are the final results:
Of course, I loved doing this so much that I decided I needed some more things to work on, so I ordered some molds and liver of sulfur. And I made myself a pendant.
I love it, despite the fact that it's full of mistakes! I had so much fun that my husband ended up buying me some tools and a book on metal clay jewelry for Christmas. I just ordered some more clay so that I can make more things and practice getting things really smooth and shiny. I can't wait for it to get here!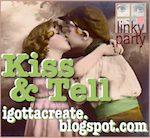 Now, the inspiration for posting these instead of cards came from
I Gotta Create
. She is having a "Linky Party" where people can show off their creations. So I started thinking about what I could show off other than my cards. Since I had so much fun making the jewelry and needed to show it off somewhere besides Facebook, I decided this would be the perfect place. I'll get back to my cards soon, I promise!